Déjà VOO?
"Ruthless battles and fierce competition". That could be the pitch of a new action TV show, but no…w're talking about the TV, internet and telecommunications market in Belgium.
Since 2019, we've worked hard to help VOO, Belgium's 3rd largest provider, to offer the best digital experiences to all their clients & prospects.
Brand experience
Convincing the french part of Belgium that you provide the fastest internet and mobile connexion, the richest movies & entertainment catalog and the latest smartphones in a very (very) competitive sector is a hell of a job.
It's not just about the price (well, at some point it is but… that's not the point), it's about brand experience.
What makes VOO truly different and more appealing that its competitors? Details!
Every possible touchpoint has to be consistent; from the moment you hear about VOO to the moment you watch your favorite TV show on your smart TV or play online with your friends.
Since 2019, our role has been to take over their consumer and business websites and make them as perfect as possible, one iteration & one promotion at a time. Did we succeed? We cannot say for sure but we surely gave it our best!
Using a modern headless architecture, we've been able to continuously update the websites while ensuring a maximum flexibility and super smooth user experience. Besides voo.be, we've been working on all their digitals initiatives, literally acting as an extension of their digital department.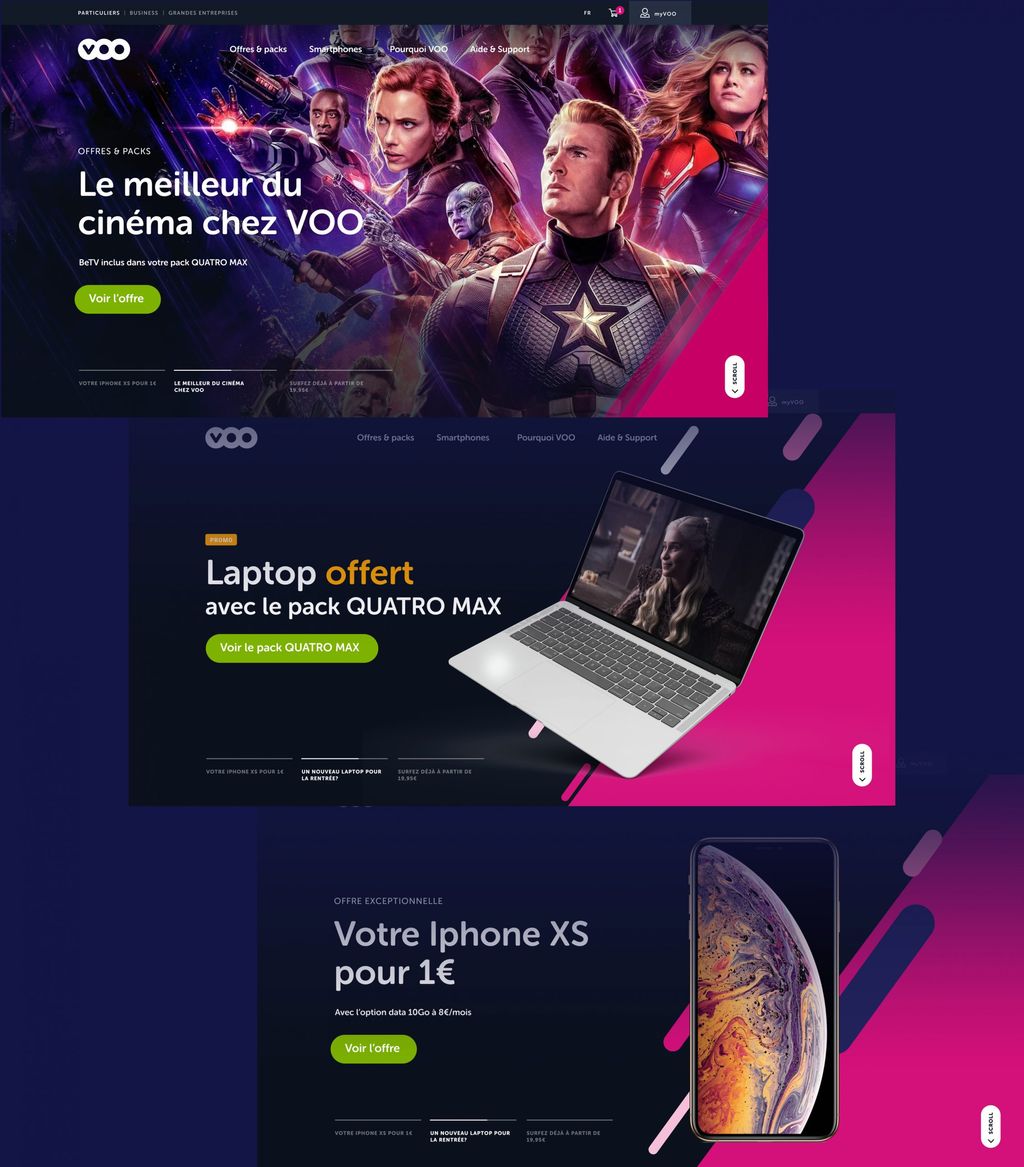 Navigation is key
When you have very diversified audiences, making it easy for customers to navigate through all the services and across all devices is not just important… it's critical!
Users don't like spending time renew/upgrade their Internet connexion package, so you have to find the best ways to guide them effortlessly to the piece of information they are looking for.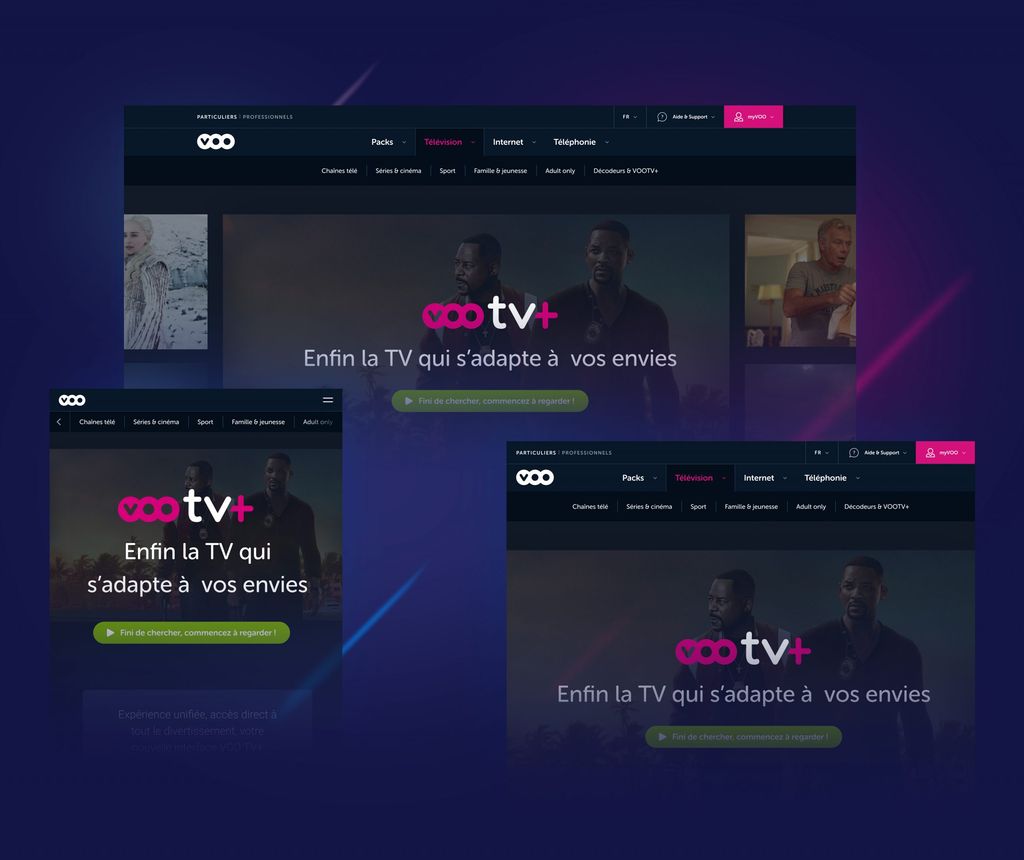 The Queen of Entertainment
Content is king, we all know that. And VOO knows it even better!
Since their early days, they have been considered as the most generous content provider with thousands of recent movies in their catalog and premium paid-channels like BeTV.
Still, the number of competitors streaming services is increasing very fast, making it even harder to stand out from all the noise.
In 2022, we've completely overhauled the TV section of their website to build a rich and immersive content portal to demonstrate the quality and exhaustivity of the VOO catalog.
Emotion at every single touchpoint
Aside from the new content portal, we've made sure that entertainment could be felt everywhere, including in VOO's campaigns.
Recent exemple: In 2022, VOO signed an exclusive deal with HBO to be the only telecom operator in Belgium allowed to broadcast the much expected Game of Thrones' prequel "House of Dragons" in their TV subscription.
Using tailor-made webGL animations, we made sure that each and every visitor of their homepage would be able to feel VERY close to the action ?.
King of the deals
At some point, and in such a competitive market, price will definitely make a notable difference in clients' perception of your brand.
In order to stay on top of their competition, VOO quickly understood the need of proactivity and generous deals when it comes to commercial incentives.
But it's very hard to differentiate one promotion from another… or to make sure that, apart from the price, your values & your singularity can be perceived within the promotional message. Over the years, we've worked hard to combine all these elements and find THE right combination to get VOO's users attention.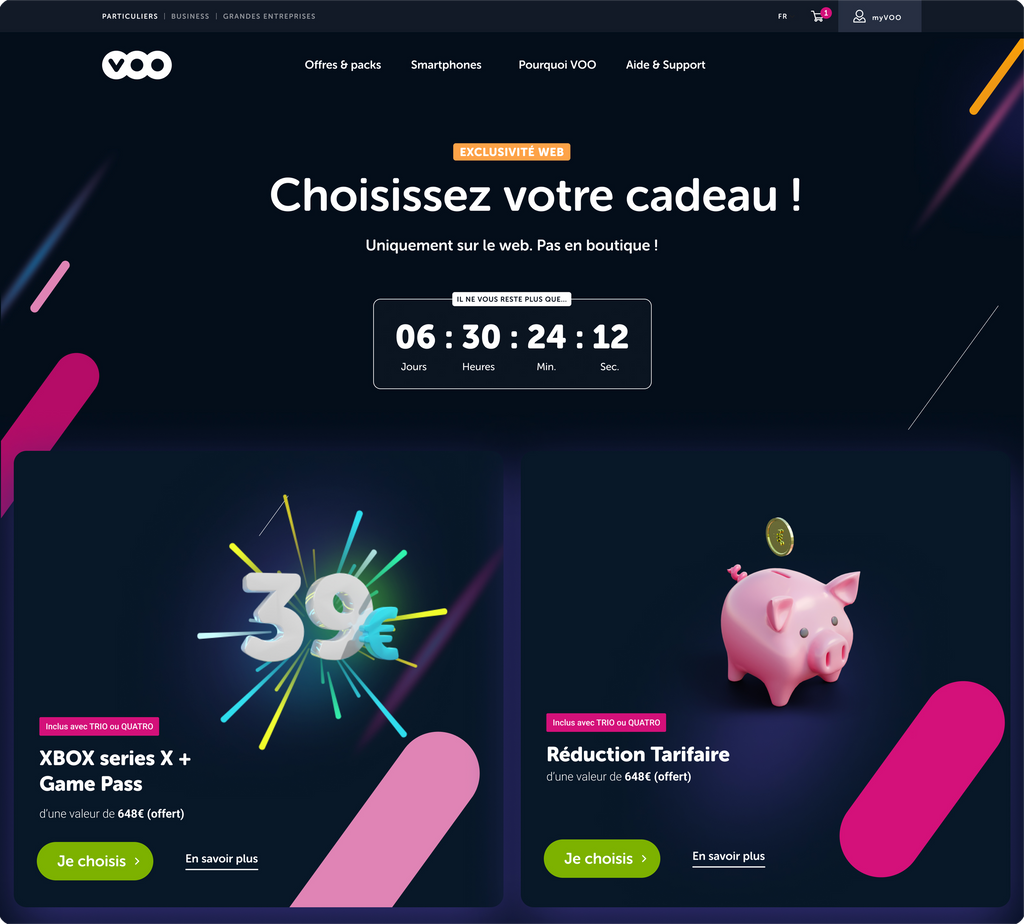 EPIC & VOO, since 2018...
No, we can't give you the exact number of releases, code merges and UX iteration we've done for VOO… let's just say it's a lot… like a lot!
Since the beginning, our whole team had the chance to collaborate with them on every possible kind of digital project: from building campaigns, or finetuning UX systems to producing engaging visual assets (including 3D and motion designs), interactive touch interfaces, configurators…and even providing guidance to optimise their hosting infrastructure & continuously upgrade the code architecture, we've covered it all…
…almost ! Because we're far from being done with this exciting collaboration.